The Institute of Public Affairs paid to push targeted Facebook ads based on a "faulty analysis" claiming net zero would cause massive job losses in key Liberal and National seats during last month's Coalition infighting.
Last month, as the Coalition debated a net zero 2050 policy, the IPA paid for a series of Facebook and Instagram ads targeting the electorates of Nationals Barnaby Joyce, David Littleproud, Mark Coulton, Ken O'Dowd and Anne Webster, as well as the Liberal trade minister, Dan Tehan.
The ads warned the policy "will destroy" huge numbers of jobs in each electorate. In Flynn, O'Dowd's electorate, the ads warned "net zero emissions will destroy one in four jobs". Other electorates would lose one in five, one in six or one in seven jobs, the ads claimed.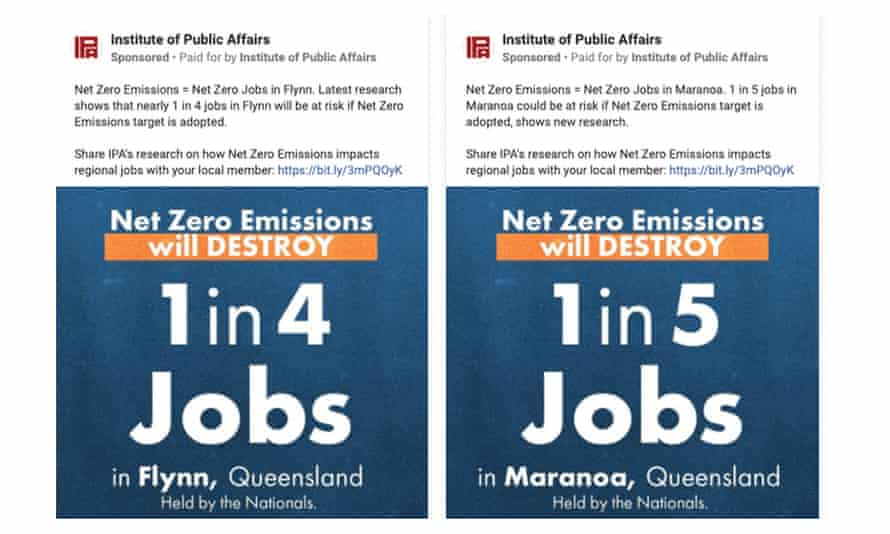 The ads relied on and linked to an IPA analysis described by experts as "beyond cynical" and almost "comical if the stakes weren't so high".
The IPA's research identified 10 industries with higher-than-average emissions – the agriculture and air transport sectors, for example – and tallied the total numbers of jobs in each sector, describing them as "at risk" from the policy.
However the ads went one step further, using figures premised on the assumption that every single job in that sector would be wiped out if a net zero policy was adopted.
The underlying report, for example, assumes that all 306,200 agriculture jobs identified in Australia by the Australian Bureau of Statistics would be at-risk from a net zero policy because the sector's "emissions per job are above the economy-wide average".